IT Monitor

As part of our managed services, we provide for real-time monitoring of all your key IT components. Each monitor is assigned a Service Level Agreement which stipulates fix times, failover contingency and escalation paths, ensuring that your business critical systems are appropriately covered, whatever the time.
Every system that users depend on is monitored 24 hours a day, with our 'Always On' Monitoring of Core Systems'

This daily Monitoring is a thorough process that runs throughout the day to constantly ensure that:
Operating systems are performing as expected
Remote office connectivity and general Internet connectivity is functional via ping verification
No ISP or email problems are occurring
Your website is up and functional
Hardware monitoring on critical hardware such as hardware RAID Controllers, Fans SCSI cards, etc via SNMP.
Clean, easy-to-read reports allow management to see how the business IT systems are performing overall and to identify any potential weak points within the network.
Reports
Reports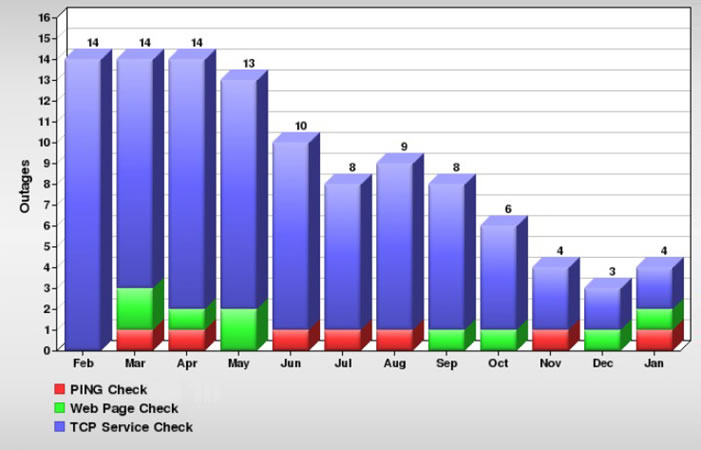 The method of support for your business allows us to constantly monitor, maintain and address any potential issues before or as they arise. Outlined below are some of the reports that the system generates in order to gather more accurate information and protect your business.

Daily Safety Checks Reports
Verification that your Server Backups are complete and status of same
Verification that your Anti-Virus pattern is up to date
Verification that your Email Systems are up and functional as expected
Verification that your Hard-disks and memory health are fine.
Verification that your Critical Event Logs are not showing any major issues

If abnormalities are detected, our support team are notified immediately, and in most instances this allows us to fix problems before they are identified at source. Our on-call Systems Engineers are able to act as soon as a priority alert is received, regardless of the time. This ensures that costly downtime is kept to an absolute minimum.

This portal provides on-line access to all your System being Monitored, allowing you or your IT team to gain increased visibility of business systems, stresses and vulnerabilities. Trend analysis allows the identification of problem areas so as to enable a proactive approach to maintaining Systems performance.

On average an SME will experience 2 hours downtime per week, but with real-time monitoring, rapid response and superior Systems Design, this can be totally eliminated. Outsourcing this key aspect of IT service delivery for your business should save you money and time.

Monitor Everything
Everything within your network environment can be monitored: Performance Servers, Web Applications, Databases, Networking Equipment and more.

Enterprise Ready
IT Monitor is designed to support everything from small to large business environments with business critical requirements.

Proactive Monitoring
Improvement in the quality of IT services and reducing business operating costs by avoiding downtime. In Short: Pre-emptive action.

Capacity Planning
We can help you plan the growth of your business, provide a scalable infrastructure to be able to predict future IT requirement and best apply your business financial resources more accurately.

Package Overview
Proactive Management Monitoring all active network equipment
Remote Desktop Management
Reduced Costs - Fixed monthly fee (Pay per Device)
Improved Service with alerting via email & SMS
Increased Productivity
Reduced Downtime
Increased Security
Remote Management - Access to monitor portal
Health Checks
Our focus is to keep your IT Environment operational and available so that you can focus your efforts on growing your business, managing costs and increasing revenues. Our aim is to help your business realise the productivity gains and Return On Investment (ROI) that you have been expecting from your IT systems.